Spur/Spur Straps
---
Horse Riding Spurs and Spur Straps
It is my opinion that a novice rider should not ride with spurs until you have been riding for a while. Your trainer can help you determine if and when you can start using spurs. Not all horses need to be ridden with spurs. If you intend to show your horse, check your particular breed association rule book for acceptable specifications on spurs.
---
Engraved Spurs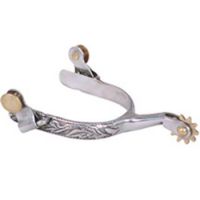 1/2″ inch leaf-engraved stainless steel band with 1 3/4″ shank and 10-point rowel.
Metalab SS Humane Spur w/Brass Buttons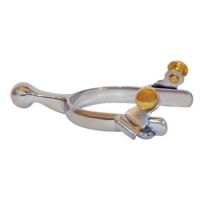 A stainless steel, half-inch band humane spur with brass buttons, knob end, and 1.5-inch shank (mild effect). For ladies. Sold in pairs.
Black Roping Spurs Pair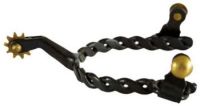 Black spur twisted band.
---
Tom Thumb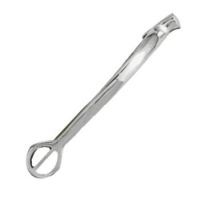 Stainless Steel Tom Thumb Spurs. All with ¼" Neck.
Ladies Brass Overlay Spurs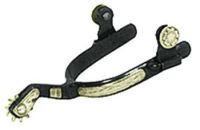 Black steel and highlighted with bright brass overlay on the bands, buttons, and rowel. Sold in pairs
Prince of Wales Spurs w/Nylon Strap Womens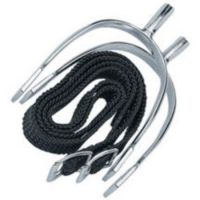 Great spurs for everyday riding. Sold in pairs.
---
Kincade Leather SpurStraps w/ Keepers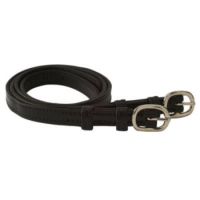 Kincade Leather Spur Straps made of smooth premium leather with nickel plated buckle and double keeper. Sold in pairs.
Tory Leather Spur Straps with Silver Buckle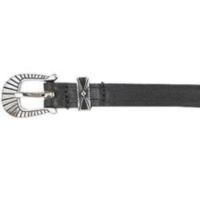 Made with Wickett and Craig domestic tanned leather. Straps are accented with a Southwestern style three-piece buckle set. Includes buckle, keeper, and tip. Sold in pairs.
Recent Posts

Post Categories

Archives