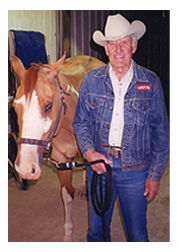 I met Huddy Hudspeth when I volunteered to work the Palomino World Hose Show about 18 years ago.  He was the tack judge and I was recruited to check the horses markings.  We had to check every horse every time they came through the gate to the holding pen.  At that time, the show was 3 very long days.  We spent a lot time at the back gate.  When there was time between classes, I asked a lot of questions and he told a lot of stories.  We worked together until about 5 years ago.  He was one of the most amazing people I know.
He had a gentle way about him, but he commanded respect.  Whether it was a horse he was training or a cowboy who was trying to understand why his horse had become flighty.  He had trained more horses than I can ever imagine and probably just as many people.  My young paint mare & I became one of his many students when he was about 80.  He was still training 5 horses.  I spent just three months with him.  It was absolutely unbelievable what he could do in that short time.  Huddy was a trainer that believed in the natural way a horse should move.  My mare was sidepassing, doing flying lead changes, rollbacks, halfpass, had correct cadence for each gait and more.  He also made all his horses learn to stand hobbled.  Huddy made me a rope hobble out of an old cotton lead rope.  I use this tool today on all of my other horse. I  can't tell you what an invaluable tool this is.
Huddy had been having trouble with his hip.  He kept putting off the surgery he knew he needed.  He just didn't want to be off a horse very long.  He finally had to give in to pain.  After the recuperation, I saw him again at another horse show. I asked how he was doing.  He replied that if had just know how well the surgery had gone and how much better his hip was, he would have done it a long time ago.  I'm not real sure just how long Huddy was actually off a horse, but I'll bet he was riding just as soon as the doctor said it was ok if not before.
Huddy touched a lot of people.  He helped a lot horses overcome problems and started many young horses out on the correct 4 feet.  He trained many riders.  He passed his knowledge to anyone who would listen.  How much better a horseman would I have been if I had known him earlier in my life.
Huddy passed away July 29, 2006.  The horse industry lost a treasure that can never be replaced.  They just don't make them like Huddy anymore.  I hope there are horses in Heaven because I can't think of him wanting anything esle.
Huddy . . . . you will be missed terribly.  You were greatly loved by all.