Important Questions When Searching For A Horse Boarding Facility – Part 1
I've been at my present horse boarding facility for over 20 years.  Wow, that's a looong time you say.  Yes it is.  I had no reason to move.  I liked where I was.  I liked the people, the barn manager, the other horses and the barn owner.  Unfortunately, the bad economy and the ever increasing cost of feed are forcing the boarding facility to close its doors.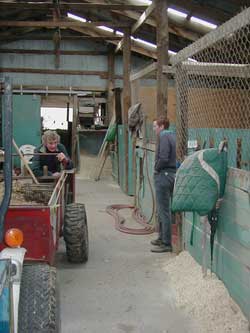 I found myself in unfamiliar territory.  I hadn't had to really look for a boarding facility since I got my first horse over 30 years ago.  The horse boarding facilities where I'd been to this point were either recommended by friends or my friends were currently boarding at them.  This time I had no such recommendations.  So, I had to set out from scratch to find a new place that best fit my needs and my horses' needs.
How you ask?  I started on the internet.  You'd be surprised (or maybe not) how many facilities come up when doing a search that includes the town you want to be near (horse boarding Tulsa, horse stables Dallas, etc).  Out of the 20+ boarding facilities that came up, I found 8 boarding facilities that looked promising in my target area.  I made a spreadsheet that had the name of each stable, the contact person, phone numbers and address.  I'm making this available to you.
Click here to download my spreadsheet.

I called each one. The very first thing I asked was "Is there space available for my 2 horses".  Since I had a relatively short time frame, if there was not room there would be point no need to go any farther.  If I had a longer time frame, I could have asked to be put on their waiting list.  If there was room, I proceeded with getting information.  Depending on the information I received on the phone, I had to make a decision if I wanted to put the facility on my list.
Do yourself a favor before you start this process and decide what would be a deal breaker for crossing off a horse boarding facility.  It could be too far away, no trainer, no stall, too expensive, not the right riding discipline, facility is just too large or too small etc.  It could be a number of things.  Just make sure you know what is most important to you and your horses.
I set up an appointment for the 5 boarding facilities that made my final list.  I made sure to leave my name and phone number in case the barn manager or owner needed to contact me.
1st rule:  BE ON TIME for any scheduled appointment!!!  If you can't make it or you're running late, call the facility.  They may decide it's best to reschedule.
2nd rule:  Take a notebook with you to write down information.  If you're like me, I can't remember things for too long.  When I have a notebook, it helps me ask the same questions of all the facilities.
I took all of the information and entered it in my spreadsheet.  This made it easy to compare all of the boarding facilities with each other.  I also didn't forget to consider what I saw when I visited each facility.  Was it clean?  Were the stalls clean and have a good layer of wood shavings?  Were the stalls/fences/gates etc in good repair?  Was there clean water available for the horses?  Was the feed room clean and appear free of pests?
I also look for a friendly environment.  I note if the owner or manager is easy to talk to and how forth coming they are with information.  I also take in consideration the riding style of the facility or if it is solely a show barn and how well I might fit in.
For me this was a nerve wracking process.  I wanted to make sure I picked the best facility I could afford.  I had a little more than month to locate, compare and pick a new horse boarding facility.  I tried not to get discouraged if a facility didn't work out.
Of the 5 horse boarding facilities, I narrowed my choices to 3.  Over the next few weeks, I changed my mind a couple of times as to which would be best for me.  When I finally made my decision, I informed the lucky facility that I would like to move my horses there if the openings were still available.  I couldn't move in until the end of the month.  I asked what it would take to hold the spaces.  We agreed on a deposit to hold the openings.  Now I'm waiting for my vet appointment so that I have the necessary paper work.
I'm glad this process is finally over.  I'm ready to start the next adventure.  I hope this isn't going to be an omen, I'm moving on April 1.
Check back for Part 2 for an exact list of important questions to ask when looking for a horse boarding facility.