2010 Palomino World Show: Exhibitors Up; Temperature Up; Volunteers Down
The 2010 Palomino Show is over.  From the back gate, the number of horses appeared to have been up.  The youth show and the open show had more exhibitors in the riding classes than last year.  The halter classes were down though in the weanling and yearling classes.  With the rough economy, that was expected.
There were horses from all over the U.S. and even a few from Canada.  There were all of the horses that h
ave been showing for years, but there was also quite a few  first time horses and exhibitors.  I found, from the class sheets, there was a lack of horses from Oklahoma.  This surprised me since this show is held in Tulsa, Okla.  In past years, there has almost always been at least 1 horse from Okla in most of the classes.
The Oklahoma heat did not make this a comfortable show for horse, exhibitor, trainer, groom or volunteer.  The heat index on most days was 109 or higher.  Even though we sit just outside one of the big opened overhead doors, we did not benefit from the AC spilling from the building.  There just wasn't enough wind to create the draw needed to bring the AC out.
The humidity was another factor.  If you stayed outside, you were drenched in sweat.  If you stayed inside, you were too cold.  If you wore glasses and went from inside to out, your glasses fogged up so bad it took several minutes for them to clear.
The weather made a few people a little crabby at times.  The heat took it's toll on the horses too.  They got tired sooner and some acted up a bit more than usual.  For the most part, everyone had a good attitude.
The one factor that was way off was the number of volunteers to help this year.   While the youth show did have a good number of volunteers, the open show barely had any volunteers.  One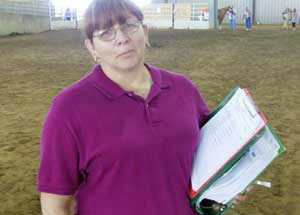 of the main volunteers became sick after the youth show and could not return for the open show.  This left 1 scheduled volunteer  and the tack judge at the back gate and 1 volunteer to hand out awards.  The ground manager helped fill in.  This is the smallest amount of volunteers ever for this show.  We all stepped up to the challenge and the show did not have to wait on the back gate for any of the classes.
If you have a chance to go to one of the big shows, please do.  Enjoy the different classes.  Appreciate the skill of the exhibitors and the training on the horses.  Browse through the different vendors that are at the shows.  But most importantly . . . . . if you can spare just one day, help a show run smoothly by volunteering.